Subscribing to a Topic or Forum
If you'd like to keep track of happenings in a particular topic/forum and would like to receive an e-mail when there is a new reply in that topic/forum, you can "subscribe" that topic or forum by doing the following:
On the bottom left corner of all topics/forums, you'll see one of the 2 bars, click "Subscribe Topic" or "Subscribe forum" to subscribe:


Some Tips:
>Subscribe the collab topics you are participating in to get a notification via e-mail whenever there is a new post. You'll be kept updated in the collabs you are in or holding this way and meet due dates.
>If you're a part of the 24/7 Service Center Teams, it is ideal to subscribe to your own topic so you know when someone drops a request off to your profile and can respond quickly.
>Remember to drop into the topic when you get the notifications to continue getting notified though. If you receive a notification but don't visit the topic, you
will not
get notifications for future replies in that topic until you check back.
>Keep your e-mail on board to the one you use most actively to make sure you will receive notification e-mails. You can PM Cherrii, Agit or me anytime and we can update your e-mail for you.
Keeping track of the Forums and Topics you are Subscribed to
To keep track of the Topics or Forums you are currently subscribed to, click into the User Control Panel on the top left, then under "Overview", click "Manage Subscriptions."
If you want to unsubscribe, tick the boxes on the right then click "Unwatch Marked."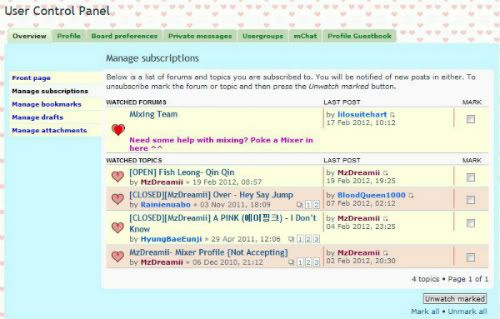 Check it out guys ^^
If you have any questions, drop them here and we'll get back to you asap ^^