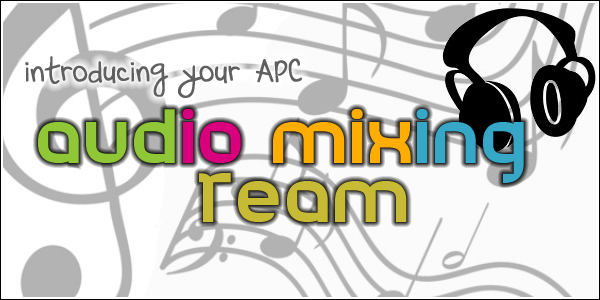 (Credits to xarrolie for this cute banner)
Our Purpose

:


To aid fellow members in mixing their collabs, thus hopefully speedy up the release of collabs

.
Please feel free to browse the profiles of our talented mixers who will be more than delighted to help you, just contact them via PM to discuss details. Mixing status for each mixer will either be "not accepting" or "accepting" and is set to change from time to time- pretty much is self explanatory here.
Please ensure all requests are collabs initiated at APC Forums (in the collaboration corner-APC/APAC). Request for forum external collabs are invalid and will be subsequently deleted.
Current List of mixers:


1. shakyshakeeeee
2. Cherrii321
3. xxsaebyullie
4. FightingForSasuke
5. Fowlergirl
6. chantelleeey
7. musicyukipi
8. chantelleeey
9. clumsydubu
Good luck!=)
CONTINUOUS RECRUITMENT: MIXERS
Think you've got what it takes to become an APC Mixer? Please see "APC Mixing Team-Recruiting mixers" under "The Bulletin".
Quick link to topic:
Subject: Mixing Team Recruitment [CLOSED]